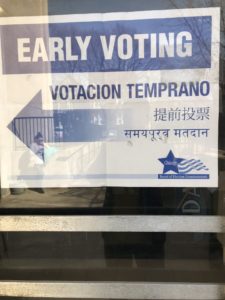 Yesterday was beautiful in Chicago. So I walked Emily Anne through the park to early vote. She's a teacher, voting on Election Day is unrealistic. It's a good thing, early voting. We should make it even easier. Maybe an Early Voting App.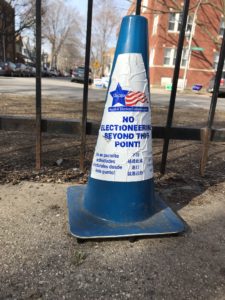 We got to the voting station just before it closed at 4PM. There was a long line inside, so I wandered around the neighborhood, taking pictures of lawn signs and lying to volunteers with pamphlets trying to seduce me with their candidate. I appreciate the electioneering. It's sexy, pimping ideas.
Then we shot across town to see an open rehearsal of the Civic Orchestra of Chicago. The conductor was Riccardo Muti. He was working with the musicians on Mozart's Symphony Number 36 in C Major. The orchestra hit the stage in hoodies. It was like seeing a bunch of punk rockers, only instead of covering Green Day it was Mozart. I opened the program. There was a letter from Mozart to his dad.
"On Tuesday November 4th I'm giving a concert in the theater here and I am writing a new one at break-neck speed, which must be finished by that time. Well I must close because I really must set to work."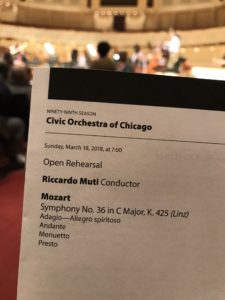 Mozart arrived on October 30th at the capital of Upper Austria, Linz. By November 4th, he needed to write a new symphony, copy parts for the players and rehearse. Can you imagine being that good at something? How exciting! My whole life I've wanted to be that good at something. I remember being at Elm Place Junior High. There was a kid named Ricky Guthman. He was so good at math, one day in class when the teacher explained the Pythagorean Theorem, Ricky got it instantly and took it over the teacher's head. He spoke math like it was a language. It made sense to Ricky the way music made sense to Mozart. He wrote an entirely new symphony in 5 days because he forgot to pack a suitcase with his old hits. Wow!
Do you think part of the problem we're having with politics is the lack of art? It's not a calling of the spirit like sports. It's not an obsession of the soul like painting. It's not a language of the heart like music. It's not math. Politicians can point to the moon. Astronauts can walk on the moon. But scientists get us to the moon.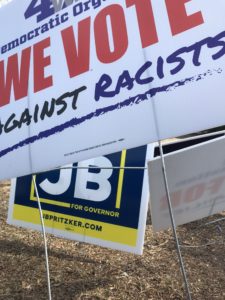 They imagine the impossible and connect the dots. Wow!
Speaking of bad math…
Vladimir Putin looks miserable. He didn't really win. And he knows it. Donald Trump looks miserable. He didn't really win. And he knows it. Hillary Clinton looks miserable. She really won. And she knows there's nothing she can do about the injustice besides calling Al Gore to commiserate. I can imagine the power of an opera underscored by deconstructing the thematic emotion of commiserating.
But it's a terrible way to live, haunted by regret.
I'm voting on election day. I still don't know who I'm voting for. I should have allowed myself to be seduced by the electioneers. But it feels sketchy, being sold. That said, there's an art to being a huckster. It's a calling of the conscience, a rehearsal for voting.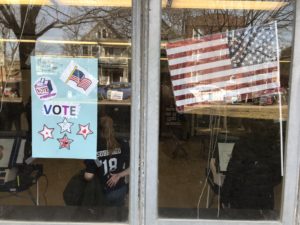 At one point during the rehearsal, I remember the conductor stopping the orchestra to say this, "Mozart wasn't frivolous with his notes. Play the C with disruption. Mozart's life was filled with turmoil. He offers a beautiful note only to have it smashed to pieces. This comes from experience."
We had hope. We smashed it to pieces. I don't know if we can get it back. Or if we even want to get it back since we didn't handle it with grace. That said, I'm still voting. It's not a calling. It's an obligation like washing the dishes. Emily Anne doesn't like coming home to a sink filled with dirty dishes and I'm turned-off by a woman who doesn't vote, so I scrub and she votes early.
We're a harmonic match.